Stonework Services by a Professional Stone Mason in Ireland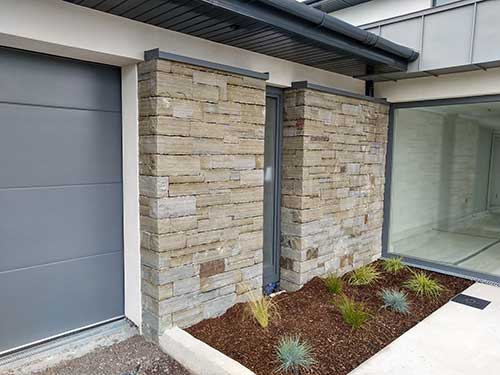 In Ireland, the craft of stonemasonry has a rich history and tradition. A skilled stone mason can transform raw materials into stunning architectural features and works of art that stand the test of time.
Our services include
Stone Wall Construction
Stone walls are a popular choice for both residential and commercial properties. They offer durability, privacy, and an attractive natural aesthetic. A skilled stone mason can construct various types of stone walls, including dry stone walls, mortared stone walls, and retaining walls, using a range of materials such as limestone, granite, and sandstone.
Stone Cladding
Stone cladding is a technique used to create a decorative exterior or interior finish on a building. This involves applying thin layers of stone to the surface of a structure, giving it the appearance of being constructed entirely from natural stone. Stone cladding can be applied to both new and existing buildings and is a popular choice for adding character and charm to a property.
Stone Fireplaces
A beautiful stone fireplace can be a stunning focal point in any home. From traditional to contemporary designs, a stone mason can create a bespoke fireplace tailored to your specific requirements and preferences, using materials such as marble, limestone, or granite.
Stone Restoration and Conservation
Preserving and restoring historic stone structures requires specialized knowledge and expertise. A professional stone mason can carefully assess the condition of a structure, develop a tailored restoration plan, and carry out the necessary repairs to ensure the longevity of the building.
Bespoke Stone Features
In addition to the services mentioned above, we can create a wide range of bespoke stone features, such as garden ornaments, fountains, benches, and sculptures. These unique pieces can add a touch of elegance and distinction to any outdoor space.
Stone Paving and Patios: A stone mason can design and install beautiful stone patios, pathways, and driveways using various materials and techniques. The result is a durable and attractive outdoor space that enhances the overall appeal of your property.
Contact us for more information
Stonework Services Gallery